Madbot says,
The latest (and hopefully last) release of the Starwars movies series has created a big marketing buzz.
It's always fun to see the Lucas marketing engine in action. Most people think Coca Cola is the most successful marketing brand out there, but Starwars can't be far behind. How many people can really avoid the newest marketing onslaught from Starwars Episode 3 – Revenge of the Sith?
Bento girl and I were signing up on a deal to upgrade my ADSL connection to fiber and also to get the phone / pay-tv package deal on Saturday. Saw this ad when I first got to the subway station and thought it was great – then later I realised it's everywhere (!)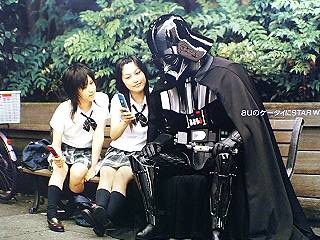 Cute picture which I just had to capture with my cellphone.
A quick browse around the web finds even more advertising campaigns tied to Starwars. All the co-branding seem to work pretty well. Another one of the funnies is this ad when Darth Vader does a pitch to Orange.
Here is the link – cute eh? 😉
(jedi hand wave) Madbot is the supreme leader of the galaxy…